Where To Buy CBD Oil For Dogs In Canada? List Of The Best Products In 2023 With Reviews
Best CBD Oils For Dogs | CBD Oils For Dogs Reviews | CBD Oil For Dogs Overview | Best CBD Oil For Dog Shops
People that have dogs know how helpless you can feel when something is not right with your furry friend. CBD products for pets may help your dog feel better in situations of stress and anxiety, and in some cases even help ease discomfort caused by pain.
– 20%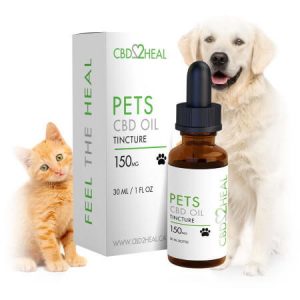 – 15%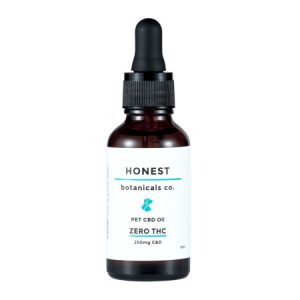 – 20%

Our Selections
| | |
| --- | --- |
| 🏆 Best CBD Oil For Dogs | CBDNorth: CBD Oil For Dogs With Wild Salmon |
| 🔥 Cheapest CBD Oil For Dogs | CBDMagic Full Spectrum CBD Hemp oil 500 mg |
| 🎁 CBD Oil For Dogs Coupon Code | CBDMagic Full Spectrum CBD Hemp oil 500 mg |
Keeping your dog in good health is a sure way to allow them to live their best possible life. CBD-based products for pets may help your four-legged pal have a higher quality of life. We have analyzed several brands and the reviews left by previous customers to select the best CBD oils for dogs in Canada.
CBD products have been getting more popular over the years, and the same happened with the oils formulated for dogs. Below, we'll give you an overview of the best-rated CBD oils for pets, so that you can easily find one that might be the right option for your furry friend.
1. CBDNorth: CBD Oil For Dogs With Wild Salmon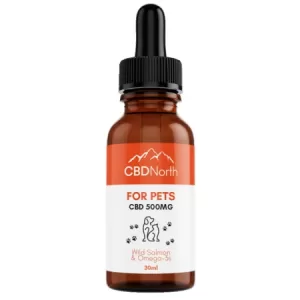 CBDNorth is one of the most renowned CBD brands in Canada. This online shop carries CBD oil for dogs with Wild Alaskan Salmon and 500mg CBD. The product has several 5-star reviews from customers and is made with organic hemp and omega-3s. Comments indicate that the product helps with pain management and stiffness of joints.
PROS
Made from organic hemp
Excellent customer reviews
Doesn't contain THC
CONS
Only one potency is available
2. Mellow Oil: Pet+Hemp Broad-Spectrum Extracts For Dogs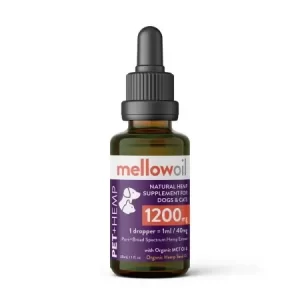 This brand carries two CBD oils for dogs that are made with pure and broad-spectrum CBD oil. With a blend of hemp seed oil and coconut oil as a carrier oil, these products are available in 600mg and 1200mg. The oils are free from THC and gluten. Both products have received excellent reviews from previous customers.
PROS
Variety of potencies
Very fast delivery
Made with high-quality ingredients
CONS
Might be too strong for small animals
3. Honest Botanicals: CBD Oil For Dogs With Bacon Flavours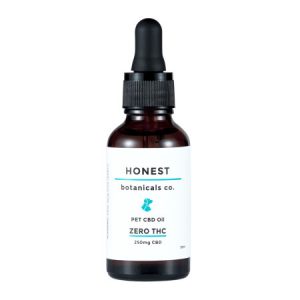 Another highly reviewed CBD oil for dogs is the one from Honest Botanicals. This CBD oil is bacon flavoured and comes in 250mg, 500mg, and 1000mg options. The oils are made from CBD isolate, which guarantees there is no THC. It counts with over 450 5-star reviews from previous customers.
PROS
Wide range of potencies
Natural bacon flavouring
Very well rated by customers
4. CBD2Heal: CBD Oil Tincture Bacon Flavoured For Dogs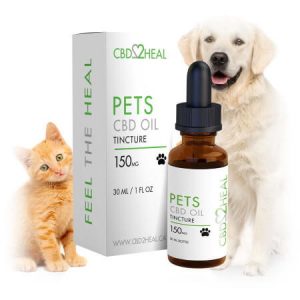 CBD2HEAL offers another bacon flavoured CBD oil for dogs, that is made with organic and non-GMO ingredients. This oil is THC-free and it has 100% 5-star reviews from previous customers. Comments indicate that it helps decrease anxiety and manage pain. The product is available with 500mg CBD per bottle.
PROS
Excellent reviews from customers
Made with organic ingredients
Doesn't contain THC
CONS
Only one potency is available
5. CBDMagic: Full-Spectrum CBD Hemp Oil For Dogs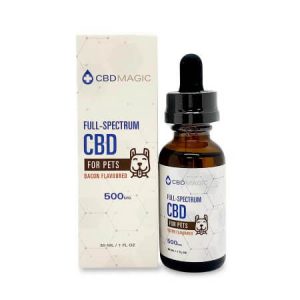 Pet-parents who are looking for full-spectrum CBD oil can find a bacon-flavoured option at CBDMagic. This product comes with 500mg CBD and contains less than 0.3% THC. It has been rated 4.8 stars from previous customers, who indicate the product is excellent and works wonders in pain and anxiety management.
PROS
Contains multiple cannabinoids
Excellent reviews from customers
Very fast delivery
CONS
Only one potency is available
CBD oil is a product made by mixing cannabinoid extract from the hemp plant and a carrier oil, which is usually coconut oil.
The hemp plant, also called Cannabis Sativa, contains hundreds of naturally occurring cannabinoids, with CBD and THC being present in the highest quantities. Although THC causes psychoactive effects, CBD doesn't, and there are several studies about its potential properties.
Most of the studies have been conducted in animal models (rats) and humans, but there is still little evidence about its effects on dogs. Below, we'll explain what evidence exists so far and how this product may help your dog.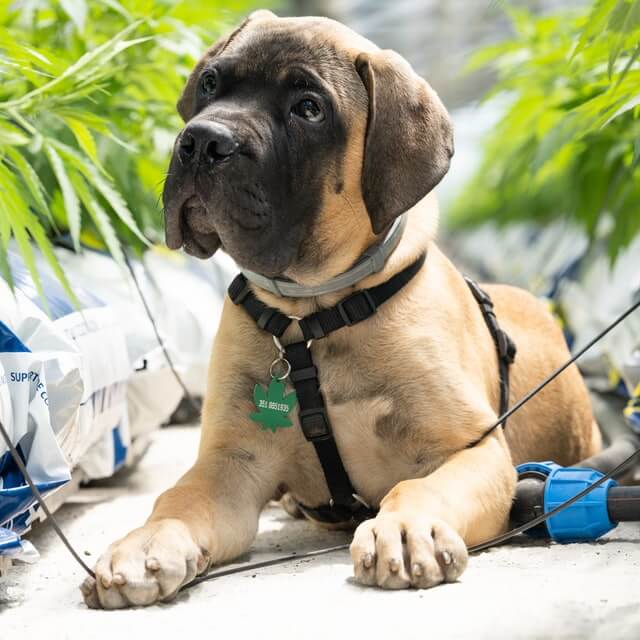 How Can CBD Oils Help Dogs?
As mentioned above, there is still a lack of studies on the effects of CBD on dogs. Nevertheless, many studies have already been conducted on other animals. One particular study tried to understand whether CBD is safe for consumption for dogs and whether it might be efficient in the treatment of pain caused by osteoarthritis.
According to that study, CBD can safely be administered to dogs, and it showed that it has a positive effect on reducing pain.
Other studies, conducted in animal and human models, have shown that CBD may help with:
Pain caused by arthritis and multiple sclerosis
Anxiety and stress
Decreasing chances of developing cancer
Skin inflammations
Nausea
It's important to understand that the research about the effects of CBD in dogs is still in its early stages and that while some positive evidence exists from numerous studies, these were not conducted in dogs. We recommend that you consult your animal's veterinarian before giving any pet cannabidiol.
Precautions Before To Give CBD Oils To Your Dog
Another crucial piece of information that should be taken into consideration is that the side effects of CBD have not yet been analyzed in dogs. Although the World Health Organization has stated that CBD is safe for humans and has a low toxicity profile, the same might be different in dogs.
The World Health Organization also explains that CBD may interact negatively with prescription drugs, so in case your dog is taking any type of medication, make sure to consult your vet for advice.
Some common side effects that have been reported by humans include:
Dry mouth
Fatigue
Drowsiness
Nausea
Gastrointestinal problems
It's also very important to understand that the potency and dosage of CBD given to a dog may have a strong impact on how they react. For instance, smaller dogs such as Chihuahua might be too small to take CBD, while bigger breeds, such as the Bernese Mountain Dog, might need higher potency oils to feel any effects.
What Is The Best CBD Oil For Your Dog?
The first step of your search for the best CBD oil for your dog should always be to consult the veterinarian that has been following your pet. Their vet knows about their medical history and any prescription medication they may be taking and can guide you on whether CBD oils might be a good option.
Once you confirm that CBD oils could potentially help your dog, you can look for high-quality oils by:
Giving preference to brands that grow their hemp organically and without any pesticides
Confirming the extraction method used is clean and safe (e.g. supercritical CO2 extraction)
Ensuring that the product was tested by third-party laboratories and doesn't contain THC
Read the reviews left by previous customers and learn more about their experiences
My Personal Choice: CBD Oil Tincture 150 mg by CBD2Heal
Since I have small pets (two wonderful Pomeranians), our vet recommended that we use a low potency oil. They both suffer from separation anxiety, so I always ensure they take this CBD oil whenever I have to leave them alone. It's made with CBD isolate and organic carrier oil, and it helps them feel less stressed with just a few drops.
How To Choose CBD Oil For Dogs?
We have said it before, and will mention it again: make sure to speak with your pet's veterinarian before giving them CBD oil. They know about their medical history and can guide you on what type of CBD and potency might be better indicated.
It's also advisable that you consider the following aspects when selecting the CBD oil for your dog:
Growth method of the hemp plants
Extraction methods used for the CBD
Type of CBD used in the oil
Test results issued by third-party laboratories
Potency and dosage
Customer reviews from previous customers
We recommend giving preference to organic CBD oil that was extracted through the supercritical CO2 method.
How To Give CBD Oil To Your Dog?
CBD oil can be ingested orally, and while you can place it directly in your dog's mouth, it may become very messy very quickly.
We recommend that you follow the instructions on the packaging or consult the customer support team of the brand you purchased from.
CBD oil comes in a bottle with a dropper, and the packaging usually contains information about how much CBD is in a full dropper. According to that information and the dosage recommended by your vet, you can add CBD oil to your dog's food or treats.
Some CBD oils have added flavours, such as salmon or bacon, which might make it more appetizing for fussy eaters.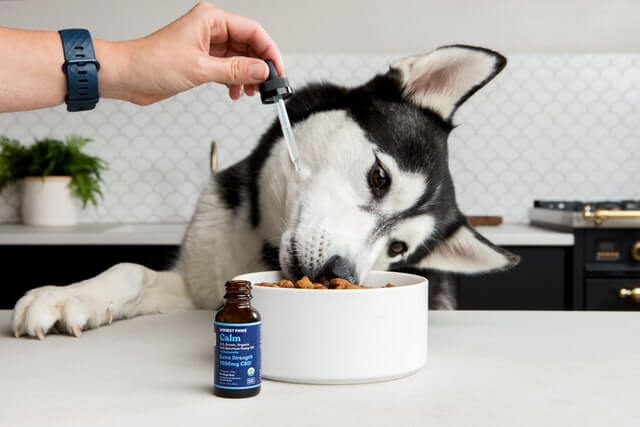 Final Thoughts: How To Buy The Best CBD Oil For Dogs In Canada?
Dogs are one of the most wonderful living beings in this world, and everyone that has a pet knows how quickly they become an important part of the family.
Because of that, it's also very difficult to see your furry friend suffer from pain, skin conditions, or feel stressed.
As an option, CBD oil might potentially help your dog feel better and have a higher quality of life.
We recommend that you follow the tips we gave you throughout this article to find premium quality CBD that was formulated specifically for dogs. Don't forget to always consult the reviews left by previous customers as well, as these offer you a clear vision of what to expect.
References
Lauri-Jo Gamble, Jordyn M. Boesch, Christopher W. Frye, Wayne S. Schwark, Sabine Mann, Lisa Wolfe, Holly Brown, Erin S. Berthelsen, Joseph J. Wakshlag, Pharmacokinetics, Safety, and Clinical Efficacy of Cannabidiol Treatment in Osteoarthritic Dogs, Front. Vet. Sci., 23rd July 2018
https://www.frontiersin.org/articles/10.3389/fvets.2018.00165/full
Ashutosh Shrivastava, Paula M Kuzontkoski, Jerome E Groopman, Anil Prasad, Cannabidiol induces programmed cell death in breast cancer cells by coordinating the cross-talk between apoptosis and autophagy, Mol Cancer Ther, Epub 12th May 2011
https://pubmed.ncbi.nlm.nih.gov/21566064/
FAQ
Is CBD Oil For Dogs Legal In Canada?
Currently, there are no legal cannabis-based prescription drugs for animals in Canada. This means that your veterinarian can't prescribe CBD oil to your dog. For CBD oil for dogs to be considered legal under the Cannabis Act, there must be legal medical products that are made with CBD.
When Should You Give CBD Oil To Your Dog?
Please speak with your dog's veterinarian before giving them CBD-based products. There is still a lack of research about the potential benefits of CBD in dogs, and according to the World Health Organization, CBD might negatively interact with prescription medication. The research so far shows that CBD may help with anxiety, pain, and skin conditions, however, these studies were not conducted in dogs.
Do Vets Recommend CBD Oil For Dogs?
Under the current legislation in Canada, vets can't prescribe CBD oil for dogs. This happens because according to the Cannabis Act, veterinarians can only prescribe CBD-based medications that are legal, and unfortunately, there is still no such medication. Nevertheless, you can always ask your vet for advice on whether CBD might be an option for your pet.