CBD Bath Bombs Canada: Where Can You Buy The Best Bath And Shower Products Online?
Best CBD Bath Bombs | CBD Bath Bombs Reviews | CBD Bath Bomb Overview | CBD Bath Bombs Shops
One of the newest categories of CBD products is bath bombs and similar shower products. Here, we'll give you an overview of the best-rated options in Canada.
– 15%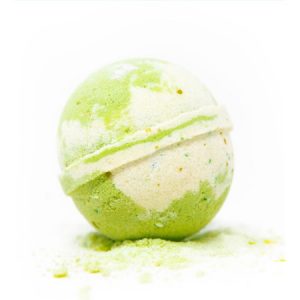 – 25%

– 25%

Our Selections
| | |
| --- | --- |
| 🏆 Best CBD Bath Bombs | BuyMellow: CBD Infused Bath Bombs |
| 🌿 Best Intimate CBD Bath Bombs | Delush: Sweet Hearts CBD Bath Bombs |
| 🔥 Best Relaxation CBD Bath Bombs | BuyMellow: CBD Infused Bath Bombs |
| 🎁 Cheapest CBD Bath Bombs | HempHeal: 8 Scents CBD Bath Bombs |
Those who want to make the best out of CBD's relaxing properties might just have to try one of the best CBD bath bombs in Canada. These products are made by adding CBD extract to citric acid and baking soda to provide you with the fizzy effect bath bombs are known for. Some might even have additional essential oils mixed in to increase relief and relaxation.
We have analyzed the customer reviews and information shared by industry experts to select the top 5 best-rated CBD bath bombs and shower products currently available in the Canadian market. Below, you'll find an overview of each product and its pros and cons.
1. BuyMellow: CBD Infused Bath Bombs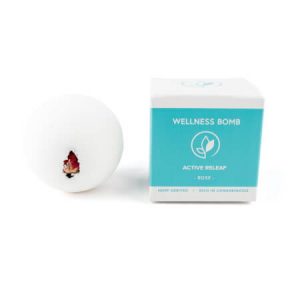 BuyMellow CBD offers a wide collection of cannabidiol-infused bath bombs ranging between 50mg and 100mg CBD per piece. Each option has different added ingredients, such as sandalwood essential oil or lavender, and all are made with broad-spectrum CBD. There is also a Wellness Bath Bomb range that was developed with different types of relief in mind.
PROS
A wide range of options is available
Two potencies are available
Very good quality-price ratio
CONS
The highest potency available is 100mg
2. Delush: Sweet Hearts CBD Bath Bombs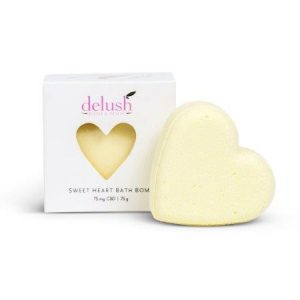 The online dispensary CBD-Oil-Canada.ca offers three options of CBD bath bombs developed by the brand Delush. These are available in the scents blueberry, pineapple, and mandarin. The bath bombs are made with grapeseed oil, Epsom salts, and 75mg CBD. These bath bombs have received excellent reviews from customers and are rated 4.5 out of 5 stars.
PROS
Three different scents are available
Excellent reviews from customers
Fairly priced
CONS
Might leave some stains behind
3. HempHeal: 8 Scents CBD Bath Bombs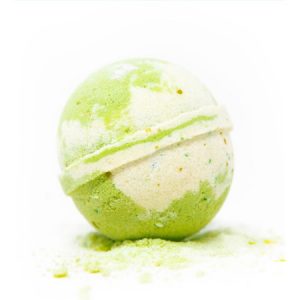 The bath bombs developed by HempHeal can be found at the online dispensary CBD Oil Direct. These bath bombs are available in eight options: unscented, spa therapy, lavender, coconut mango, pink grapefruit, pomegranate lime, litsea vanilla, and lemongrass grapefruit. Each bath bomb comes with 55mg CBD and comes with added essential oils.
PROS
A wide range of options is available
Made with high-quality ingredients
Very affordable
CONS
Only one potency is available
4. Island Therapeutics: Full-spectrum CBD Salts
Sold by BuyMellow CBD, the CBD-infused bath salts from Island Therapeutics are available in three formulas: Intimate Blend, Rejuvenation Blend, and Relaxation Blend. These bath salts come with 200mg CBD and added essential oils that vary from one item to another. Just like with bath bombs, you just need to add the bath salts into your bathtub and enjoy.
PROS
Higher potency than other options
Excellent reviews from previous customers
Good quantity-price ratio
CONS
Not fizzy like the bath bombs
5. Mary+Wanda: Full-spectrum CBD Bath Salts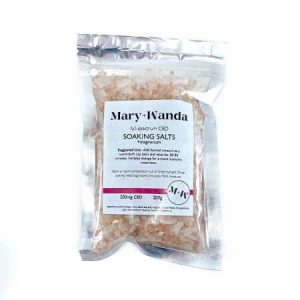 Another excellent option when it comes to CBD bath salts is the one developed by Mary + Wanda. This product comes with 200mg full-spectrum CBD and is rated 5 out of 5 stars. Customers indicate that it helps with skin conditions such as eczema, pain, and allow for deep relaxation.
PROS
High ratings from customers
Contains magnesium and vitamin E
Made with full-spectrum CBD
CONS
A bit on the pricier side
A CBD bath bomb is made by compacting citric acid, baking soda, essential oils or other ingredients and CBD extract. When a bath bomb touches water it initiates a chemical reaction that creates bubbles while it dissolves. CBD bath bombs usually contain wellness-related ingredients to help you feel more relaxed and moisturized.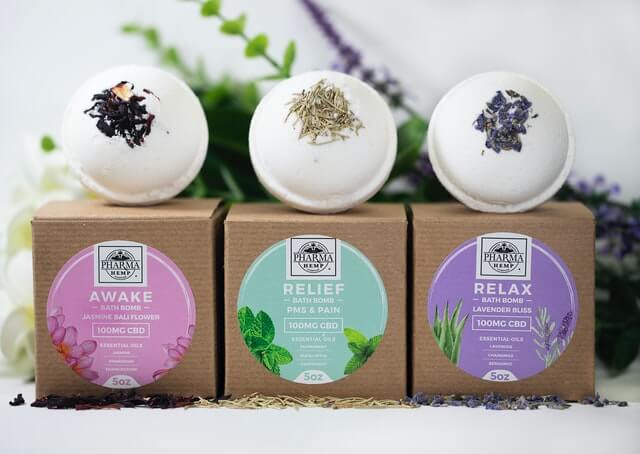 CBD Bath Bombs Potential Benefits
There is still a long way to go until we truly understand the benefits of CBD, however, some studies show that the topical use of this extract may help:
Increase muscle relaxation
Decrease inflammation
Reduce the levels of pain
Decrease levels of joint and muscle stiffness
It's always recommended that you consult a doctor before using any type of CBD product. Although the World Health Organization reported that this compound is safe for humans and has a low toxicity profile, it may cause negative side effects when taken with other prescription drugs.
Some people who use CBD also report feeling these side effects:
Nausea
Drowsiness
Fatigue
How To Correctly Use CBD Bath Bombs?
Using CBD bath bombs or CBD bath salts is very easy. All you have to do is fill your tub with warm water and place the bath bomb inside. You'll see the chemical reaction happening once the bath bomb touches the water, as there will be an increased number of bubbles.
The process for CBD bath salts is similar, as you just need to add the salts into the water. The main difference is that there won't be any fizziness or bubbles caused by the salts. Make sure to follow the dosage instructions available in the package.
After that, you just need to take your bath as you'd normally do and enjoy it!
My Personal Choice: CBD Bath Bombs With Relaxation Blend by Mellow
BuyMellow's Relaxation Blend CBD Bath Bombs are definitely my favourite, and they always do the trick at the end of a long day. These bath bombs come with lavender and rose essential oil, and truly help me feel more relaxed before going to bed and allow me to fall asleep quicker.
How To Choose Your CBD Bath Bombs?
The first step into selecting the right CBD bath bomb for you is to consult your doctor for advice. They have all the information about your medical history and know about any prescription drug or cream you may be using.
Once you know what is the recommended potency you should be using, you can start your search by:
Giving preference to brands that are licensed manufacturers or retailers
Ensuring that the CBD extract is from organic farming
Guaranteeing that you select products that were tested by third-party laboratories
Reading the reviews left by previous customers
Confirming the ingredient list to ensure you're not allergic to any
Can You Make Your Own CBD Bath Bombs?
Yes, you can make your CBD bath bombs at home and you just need a few simple ingredients:
4 ounces of baking soda
2 ounces of corn starch
2 ounces of citric acid
2 ounces of Epsom salt
2 teaspoons of water
1 full dropper of CBD oil
Any essential oils you'd like to add
You'll also need a bath bomb mould
Once you gather all the ingredients, you'll have to:
Combine all the dry ingredients until evenly mixed
Mix the wet ingredients in a different bowl
Slowly add the mixture of the liquid ingredients to the dry mixture
Make sure to slow down if you see a lot of bubbles appearing
Once the ingredients are well combined the mixture should feel like wet sand
Fill in both halves of the bath bomb mould and press them together firmly
Allow the bath bomb to dry completely before using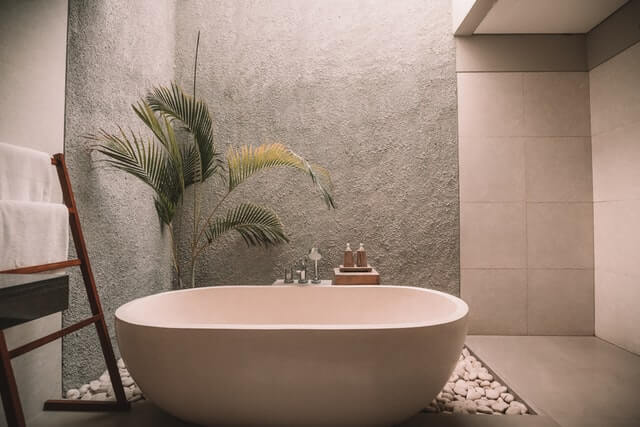 Final Thoughts: What are the Best CBD Bath Bombs In Canada?
The best CBD bath bomb for one person might not be the same for another. This happens because each person has their own preferences and needs.
We recommend that you try different options until you find one that gives you the expected results. Until then, make sure to always give preference to products that are made with high-quality ingredients and CBD.
It's always worth it to read the customer reviews about the CBD bath bombs or bath salts, as their experience can be very telling of what you can expect from the product itself or the professionalism of the brand selling it.
References
Dixon H Xu, Benjamin D Cullen, Meng Tang, Yujiang Fang, The Effectiveness of Topical Cannabidiol Oil in Symptomatic Relief of Peripheral Neuropathy of the Lower Extremities, Curr Pharm Biotechnol, 2020
https://pubmed.ncbi.nlm.nih.gov/31793418/
Sinemyiz Atalay, Iwona Jarocka-Karpowicz, Elzbieta Skrzydlewska, Antioxidative and Anti-Inflammatory Properties of Cannabidiol, Antioxidants (Basel), January 2020
https://www.ncbi.nlm.nih.gov/pmc/articles/PMC7023045/
FAQ
Is It Legal To Buy CBD Bath Bombs In Canada?
Yes, any type of product that contains CBD is legal in Canada as long as it's produced and sold by licensed entities. We recommend that you read more about the Cannabis Act and visit Health Canada's website to find out which are the licensed manufacturers and retailers in the country.
Is It Safe To Use CBD Bath Bombs?
Yes, CBD bath bombs are safe. Just make sure that you consult your doctor before regarding the potency and always read the ingredient list to make sure you're not allergic to one of the additional ingredients. Also, avoid getting any of the water from the bath in your mouth or eyes.
What Do CBD Bath Bombs Do?
CBD bath bombs are just like regular bath bombs, except for the fact that they contain cannabidiol extract. This compound is one of the hundreds of cannabinoids present in the hemp plant and many studies suggest it may have health-improving properties. The added essential oils and vitamins might also increase your sensation of well-being.
How To Identify The Best CBD Oil In Canada?
Give preference to brands that grow their hemp organically and that use safe and clean extraction methods. It's important to always consult the laboratory test results issued by third-party laboratories. Don't forget that broad-spectrum or full-spectrum CBD oils tend to be more effective due to the entourage effect.